//oakland, calif.
//age 33
//home
//email
//about
//last.fm
//message
//permanent mp3s



<! -- MP3 Of The Week -->



//tour photos
//the daily photos





(!)ad sandwich chronicles
(!)korovieva
(!)road noms
(!)listen missy
(!)daily irkutsk
(!)youlookgood
(!)melodynelson
(!)catbirdseat










© 2000-2010


:: 3.08.2002 ::

(listening to: Boards Of Canada: Geogaddi)

"And someone played a Beach Boys song on the jukebox, it was 'California Dreamin,' and so we started screamin', on such a winter's day."



You know, no matter how bad a week is going, if it ends in a mellow Friday that also happens to be payday, and your job provides you with a decent free lunch, life can't be all that bad. It's also one of those afternoons were I see the genius it almost every lyric I hear. I never really got the above line from "Punk Rock Girl" until today, and when I did it made me smile.

It seems that Pitchfork got shut down by their internet provider for posting naked pictures of The Oxes in the news section of their site. The photos, which grace the cover of their upcoming oXXXes record are part of a promotional hype that also includes faux protests and LPs sealed in paper bags. Hell, for all I know, the whole idea of shutting down the Pitchfork site could just be to generate *more* hype for the gimmicky Baltimore duo. I wonder how much thier label paid the site if the latter is true. (Note: None of this is true, but it's fun to think about.)

The Sunshine Plague Travelling Revue & Charles Atlas at the Edinburgh Castle tonight. I'll be there, drinking beer and rocking softy in my seat.



(3:25 PM) :: (link)


:: 3.07.2002 ::

(listening to: Royal City: Alone At The Microphone)

Two days of badness washed away with a French Hotel Latte and three repeated listenings of Lambchop's How I Quit Smoking. The wind is kicking up, the clouds have blown away, and there's hot soup on the table. Hells yes.

New links: Ashley likes good music and lives in my favorite part of Northern California, the part I cruise through alone blasting Red House Painters every Wednesday, and the city project makes things look pretty. I really need to take more Oakland pictures.



(6:33 PM) :: (link)


:: 3.03.2002 ::

(listening to: Mark Eitzel: The Invisible Man)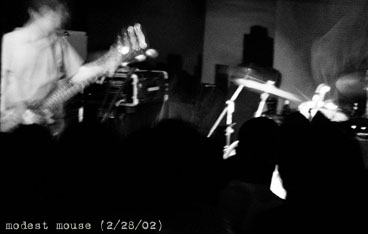 The Modest Mouse shows over the past few days were both very, very good, but also incredibly different from each other. Songs that people were literally crowd-surfing to in Chico (it felt like we were at Lollapalooza or something), people barely swayed to in San Francisco. Not that either show was better than the other, they were just, *different*. One thing that I found curious was that they didn't play any new songs. Instead, they played *old* songs that I had never heard them play live before like "Talkin' Shit About A Pretty Sunset" and "Interstate 8." Those songs were a treat, but I was hoping to at least hear a little bit of new material.
We drove the three hours to Chico on Thursday night after work, squeezing through commute traffic until the subdivisions disappeared and the long stretch of Interstate 5 appeared in front of us. We rolled up to the venue downtown just in time to go inside and catch the horrible opening band, Stagger Lee. They were basically the band from Almost Famous, all full of bad 1970s wardrobe choices, little body fat, and long hair. They tried to get the crowd into things by saying things like "Hey! You all live in the sticks man, this is just, like, the STICKS. But you know, that's cool yo. That's cool." It was irritating, and we blame The Black Crowes, The Strokes, and Cameron Crowe for their existence.
In order to get a beer, you had to go out through a side door to a smoker's patio, then get IDs checked and enter an area separated by a chain-link fence, then pay $2.00 for a Budweiswer that was being sold out the backdoor of the restaurant next door. I felt like I was being ushered away with the bad kids as I took down my bottle in about two minutes
Modest Mouse came on after a bit of a wait, after they turned on the smoke machine, the blacklights, and the flashy discoball over the main dancefloor. The sound was great, and the addition of a keyboard player who played with tones and hints of melody throughout the set was a welcomed addition. The crowd went absolutely crazy when they came on the stage and right at the beginning of every song, and I felt like the oldest person in the room. We danced a little bit, but I mostly observed the scene of 200 kids jumping up in down in unison to the music, doing hippie-dances, and getting excited about every song. Here's the setlist:


01. Broke
02. Neverending Math Equation
03. The Third Planet
04. Paper Thin Walls
05. Doin' The Cockroach
06. A Life Of Arctic Sounds
07. Talkin' Shit About A Pretty Sunset
08. I Came As A Rat
09. Interstate 8

10. Teeth Like God's Shoeshine
11. Out Of Gas
12. Wild Packs Of Family Dogs
12. Night On The Sun
13. Breakthrough
14. Alone Down There
15. Grey Ice Water
16. Tiny Cities Made Of Ashes

We got out of their around midnight, got pulled over by the Butte County Sheriff for having the same light out as when I got pulled over in Oregon, and then headed on our way home. The Talking Heads helped me get through the last hour of the drive when the lights started swirling and I started wondering if I should perhaps pull over and sleep a bit. We got home safe and I got my four hours of rest before heading off to work on Friday morning.

Friday night we had some dinner, got some drinks, kept forgetting things at the house, and *finally* made it over to Bimbo's 365 Club for the San Francisco show. We actually found parking pretty easily and walked into the venue, picked up the Noisepop 10th Anniversary CD, got a drink (and ran into Mark Eitzel at the bar), and headed inside. We were hoping to miss the opening bands, since we weren't really fans of any of them, and were lucky enough to get inside a mere ten minutes before Modest Mouse took the stage. The set difference was evident by the second song, a 15 minute long space-jam version of "I Came As A Rat" that had the entire room mesmerized. In fact, most of the songs were longer than the versions played in Chico, treating the crowd to their full instrumentation. The audience was very attentive, but not nearly as energetic or excited as the kids in Chico. There was a lot of the pot-smoking and nearly everyone was clutching a bottle of beer. Here's the San Francisco setlist:


01. A Life Of Arctic Sounds
02. I Came As A Rat
03. Broke
04.Teeth Like God's Shoeshine
05. Paper Thin Walls
06. Dramamine
07. Doin' The Cockroach

08. Wild Packs Of Family Dogs
09. Dark Center Of The Universe
10.Trailer Trash
11.The Third Planet
12. Neverending Math Equation
13. Night On The Sun


By the time they busted into Dramamine, I was in my own little happy/dancing daze and realized that all the driving, the work getting tickets, the lack of sleep, the running around looking for parking, and the price of the shows had been worth it for that one song. Pure brilliance is my only description, and it was then that I was the happiest I had been in a long while, everything seemed so peaceful and nice. Those were (I think) my 14th and 15th Modest Mouse shows, and they were just as wonderful as ever.

(Note: Live track is from a show in 1999 in Seattle, not from the San Francisco show)



(11:19 AM) :: (link)