Halfway there I stopped at this little park and took some pictures of the empty playground equipment. They looked so sad out there under a grey sky and their coat of grey paint, and nothing but the dull brown of the sand underneath them. So I rode the swings for a little while, trying to lift my feet up all the way so that they didn't hit the sand underneath on the way back down. Then some kids showed up and laughed and hopped on the see-saw, and I felt like a trespasser in their little world, so I grabbed my bag and headed down the street.
Besides, the sign on the swingset read "swings designed for use by children only."


:: 11.14.2002 ::

(listening to: Low: Trust)
[i am the lamb, and i'm a dead man] :: I think Alan Sparkhawk described the Low show last night best when he walked onstage and said "Well, here we are again." It's true, although I hadn't seen the band since 1999, it still felt like it was last week, and not much had changed.
They played well, if not a bit uninspired, and Alan seemed to be a little bit out of it, forgetting which songs they played already and looking confused part of the time. But Zak made up for his lack of sociability by cracking jokes with the audience and making fun of "that Freebird guy."
The setlist was a bit disappointing, since they didn't play anything off the first couple of records, but they did play two songs off The Curtain Hits A Cast, which was my first, and still is my favorite, Low record. It was heavy on selections from the new record (they played 10 out of the 13 songs on Trust), the highlights being a loud rocking version of "Canada" (my favorite new song) and Mimi's high, beautiful vocals on "Point Of Disgust." Those two, along with a pretty good Pink Floyd cover and closing with what might be my favorite Low song made the show well worth it, even though I was disappointed to not hear songs like "Lust" and "Violence," which have always sounded amazing live. At the very least, it made me appreciate the new record a lot more, which is what live shows generally do for me.
Mark Kozelek (Red House Painters) milled around in the back of the room, checking out each and every girl who walked by, but by the end of the set he looked bored and cut out early. Last time Low played in San Francisco, he took the stage with them for a couple of songs, so when I saw him there when we walked in I figured it would happen again. Alas, he just stuck to being creepy.
Here's the setlist ('cause I'm a dork and wrote it down):
Low, Great American Music Hall, San Francisco, 11/13/2002



01. (that's how you sing) amazing grace
02. john prine
03. tonight
04. little argument with myself
05. la la la song
06. sunflower
07. fearless (pink floyd)
08. in the drugs

09. canada
10. two-step
11. point of disgust
12. the lamb
13. dinosaur act
14. over the ocean
15. last snowstorm of the year
16. the plan




(10:47 AM) :: (link)


:: 11.13.2002 ::

(listening to: Elvis Costello & The Attractions: Trust)
Low
[because you're mine, i walk the line] :: I've been very tired all day for no apparent reason. During my drive through Sonoma County I could barely stay awake, but now that night has fallen I seem to have perked up a bit. Wouldn't you know it though, the day I'm perma-sleepy we're going to see Low play sleepytime music.
There's a pretty good interview with Steve Earle over at Salon in which he talks politics and about his new play (thanks to allergic2love.com for the link).
I got my print in the mail from Ashley, a great shot of the Flamingo Hotel sign in Santa Rosa at night. It's going on the wall, although I'm not sure yet which one. I figure that since I'm selling prints now too, I should decorate with other people's pictures.
They tried to hang me in Oakland
And they did in Francisco
But I wouldn't choke, I broke the rope
And they had to let me go
--"Bad News"
I love it when Oakland peeks its way into popular culture history, as in this line from Johnny Cash doing "Bad News."



(7:04 PM) :: (link)


:: 11.12.2002 ::

(listening to: The Magnetic Fields: 27 Love Songs)

[singing little rabbit songs] :: Someone over at the Conan O'Brien show must have exclaimed "Hey, the Indie music geek market has not been sufficiently tapped, let's get us some hip points!" Just look at some of the recent musical guests, Spoon, Sleater-Kinney, They Might Be Giants, The Flaming Lips, and Blue Traveler. Wait, Blues Traveler? Who snuck that one in?

You can download "highlights" from the last few performances from their website, but the 30 second clips just make me want to hunt down the MP3s somewhere. Steve Earle will appear in all his bushy goateed glory on Wednesday the 20th.

I'm missing the Neko Case show tonight, but I'll be at Low tomorrow. For those of you without regular day jobs, Neko is playing a free show at Amoeba Music in San Francisco at 4:00, which happens to be just over an hour away. Get her autograph for me.



(2:33 PM) :: (link)


:: 11.11.2002 ::

(listening to: Nirvana: Nevermind)

[we could plant a house, we could build a tree] :: Work is slow, since it's a holiday for a lot of people, including 99.9% of the doctors we work with. Instead of functioning with a skeleton crew, we're working with a full staff and half of them are wandering around aimlessly.

Which leaves me sitting here with my feet up wondering how Butch Vig and Nirvana got the bassline to "Breed" to sound so damned amazing. Rock music needs more fuzz to it sometimes. Tic toc tic toc, the clock moves so, so slowly.



(12:11 PM) :: (link)


:: 11.10.2002 ::

(listening to: Lambchop: How I Quit Smoking)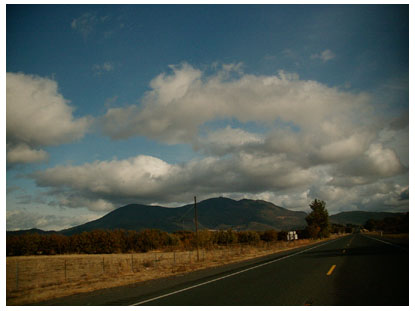 highway 128 :: lake county

[susej is jesus said backwards] :: Late nights drinking wine and listening to music on the headphones always inspires me more to mess around in Photoshop than do the needed weekend recap. It just seems like the photos look better than the words on screen, and besides, there are less clicky noises if all I'm doing is pushing the mouse around the screen. I say the recap is needed because it was (another) wonderful couple of days spent both in and out of, and I'm going to coin a new word here, urbia.

Friday night we were still sleepy from the wonderous Oldham show on Wednesday, and then my marathon Amscray practice that almost caused me to miss the last train back under the bay on Thursday, so we hit up some great local Indian food and headed home early for an evening watching movies on the couch and drinking jug wine.

Saturday we hit up SF and got haircuts, gossiping and laughing while listening to The White Album while Lycia snipped away. The dark color in my hair is completely gone now and most of the curls are wiped out (for good reason, the rain makes them spiral up uncontrollably and it drives me insane). The rest of the day we spent resting and gearing up for our first night of dancing in a long, long while.

We headed out to a club I haven't been to in years for their Cure tribute night, and surprise surprise it was full of idiot office workers and overweight ex-goths with no sense of rhythm. It took me fifteen minutes to get a drink from the bar, and while standing there I thought of a million mean things to say about the crowd and the music, but in the end I was just happy that the beer on tap was functioning, since I didn't see a single person order a cold one the entire time I stood there waiting. It was all fruity drinks and bottled vodka mixes for them, since goths don't drink beer.

But because the company was good (and can dance), and Miss Rodeo America shakes it like a champ, I had a good time. I can actually pinpoint the exact moment where the fun-ometer maxed out: shaking it to "Friday I'm In Love" (the high school reminder) and "Just Like Heaven" back to back. That, and New Order's "Age Of Consent" getting me out onto the dance floor. Good times all around, sneaking Rum out of a flask in the bathroom and finally getting home sometime after 2:00 and falling into bed. Phew.

This morning we slept in a bit and then headed out on one of our 300+ mile roadtrips where we randomly discover new highways and avoid a crazy driver who always seem to be towing something. We started out heading up the 101 to Hopland to have lunch and pie (really, we just came for the pie) at the Bluebird Cafe, who although make a quality pie, have the worst website ever. Here's a hint guys: unless you light the food well, the pictures will make the plates look like they've been sitting out for a week in the sun and then coated in hair gel before they were frozen. It looks nasty, but it's a good place to eat Ostrich burgers and drink Nehi. Where else can you do that in Mendocino county?

After that we headed up into the Cobb Mountain area and then down into the rest of Lake County. It's always odd travelling up there, since Lake is the poorest county in California, and as rumor has it, where long-term prisoners are released from the state prisons back into society. It's a trashy place without a lot to do unless you're incredibly into boating or fishing and have bad facial hair, but the lack of crowds and the spectacular views are worth our trips up there every time.

We ended the trip back in my hometown at my Mom's house, eating homemade chili and salad, drinking beer, and watching the David Bowie special on Biography. Daytrips are one of my favorite activities, and when I'm old I'll probably turn into one of those slow-driving motorhome-cruising seniors that wanders around the country until they're too old to hit the gas. Fine by me.



(11:08 PM) :: (link)