:: 4.26.2003 ::

(listening to: Fischerspooner: #1)

Went on a little roadtrip/errand drive today, up through Sonoma County to have a goodbye lunch at my little mexican eatery that I love so much (looks like I'm losing my weekly delivery run up to the North Bay, this makes me very sad). After that we hit some backroads and got a couple good jugs of cheap Italian table wine, headed east and avoided Santa Rosa proper and curved our way down to our favorite (and therefore top-secret) thrift store in Vallejo where I finally found a working vacuum-powered kid's organ. A friend of mine used to have one and I loved it so much, but couldn't find a working specimen of my own until now.

Headed back home and stopped at a big box store to get a pair of headphones, and we ended up walking home with four Mystery Science Theater 3000 DVDs. Since I have to get up at the crack of dawn tomorrow, I think the plan tonight is to crack a jug open and hit play on the remote control. No complaints here.



(6:54 PM) :: (link)


:: 4.24.2003 ::

(listening to: Four Tet: Rounds)

It broke my heart, but I killed The Daily Photo tonight. I figured that not updating it in almost three weeks spelled the end. If you haven't seen it, take a moment to scroll back through some of the archives, buy a print or two, and waste some time at work.

Two of the main inspirations for The Daily Photo are still up and running, visit them at The Big Picture and Daily Irkutsk.

In the future, I'll put up some sort of incidental photography page, since I haven't stopped taking pictures, I've just stopped taking them as often.



(11:57 PM) :: (link)


:: 4.22.2003 ::

(listening to: Spoon: Kill The Moonlight)

Kate is back online, and she says "fuck" a lot. I mean that as a compliment, I think.

We're playing a free show in LA on May 6th at a the fancy-schmancy Derby Club (which is also featured in that movie Swingers). We play early, so stop on by and then later you can buy me a drink at some swank LA bar.



(3:19 PM) :: (link)


:: 4.21.2003 ::

(listening to: Hall & Oates: Greatest Hits)

Wow, A Mighty Wind was quite excellent...that ensemble cast keeps getting better and better with each movie they make together. The other thing that makes Christopher Guest movies so enjoyable is that the songs are actually good, hokey in the right way, and with just enough hook to make them catchy. We even had a hassle-free time at the theater, something that's rare for us these days since people either tend to be loud and/or annoying, and I'm tired of hearing the people behind me state the obvious. No such occurences tonight even though it was a large crowd.

One time a couple years ago we saw The House Of Mirth in Berkeley, and in one scene the clock chimed five times, and the lady behind us, I shit you not, said "It's 5 o'clock" in a normal tone of voice. We almost died.




(10:21 PM) :: (link)

(listening to: Underworld: Beaucoup Fish)
Royal Coffee: Some folks confuse it with Bay Area mini-chain Royal Ground, which is difficult to understand. Are any of Royal Ground's interiors effortlessly hip, with beat-up wood floors, stainless steel countertops and the cushiest red loveseat ever? No. Does Royal Ground make each cup of American joe individually? No. Have any of the Royal Ground locations become see-and-be-seen hangouts for professionals, artists, would-be artists, would-be professionals, bikers of both varieties, moms, pops, kids and their dogs? No. Remember: this is Royal Coffee, the one, the only, the original.
The San Francisco Chronicle gave my neighborhood a blowjob. Ok, so it's not exactly where I live (I think to think of it as "North Oakland"), but many of the shops, restaurants, and cafes are places I patronize every day. Very odd to read about your home like it's in a travel magazine. But, on the other hand, it is nice to have places like Royal Coffee three blocks up the street. It's good stuff.

We're heading off to go see that new Christopher Guest movie, A Mighty Wind. Ciao!



(7:28 PM) :: (link)


:: 4.20.2003 ::

(listening to: (smog): Supper)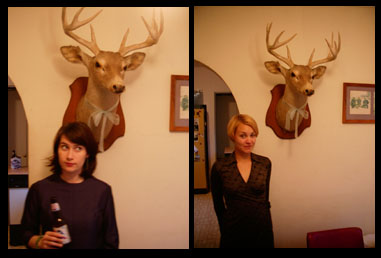 MRA & mo-town chill with bob the deer at our seder.

Ugh. Long week capped with a long weekend, and now another long week ahead of me. I've got that "I want to run away for a few days with MRA and do nothing but drive and eat good food" vibe going on pretty strong these days. Hopefully I can make it a reality...and soon before I go crazy from the stress.

Yesterday afternoon while I was in the shower I came up with the bright idea that I needed a mobile phone again (I had one years ago when I did all the booking for my first band), so I went out and bought one. It's weird, just having it around makes me feel connected again, and when I'm at band practice or just driving around, I don't seem as far away from home anymore. Thanks, consumerism!

On Wednesday we had a really fun seder for Passover, our Jewish roomate cooked up some really good salmon and rice, and we downed quite a few bottles of wine as we recited our little parts for the Passover story like high school kids reading Shakespeare. It was the highlight of my week...perhaps month, and I'm thankful that I had some quality friends to share it with. We ended up falling asleep early (pounding four glasses of wine as part of a religious ceremony will do that to you), but I'm sure I was probably smiling when I drifted off.

More on the three shows I went to this weekend later, right now it's dinnertime and Pabst time. Woot.

(PS: Grandaddy's "Stray Dog & The Chocolate Snake" is the raddest song I've heard in a long while. Their new album, Sumday, is probably their best.)



(10:30 PM) :: (link)