:: 5.16.2003 ::

(listening to: Hot Hot Heat: Make Up The Breakdown)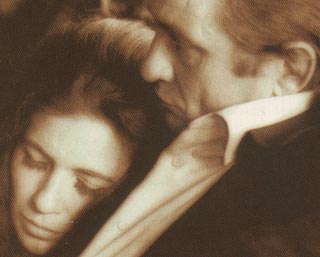 june carter cash, 1929-2003

Poor Johnny.



(2:44 PM) :: (link)


:: 5.15.2003 ::

(listening to: David Kilgour: A Feather In The Engine)

You know, I could really eat the shit out of a grinder from this place in Rhode Island that Jon took us to last year. It was this pizza place called Joey's, or something like that, and if you called them up they would deliver these grinders to you, anywhere around town. I mean, they would deliver two $3 sandwiches and then we'd tip them a couple bucks, and we'd have food. It was amazing. Damn, I miss those grinders right about now.



(10:36 AM) :: (link)


:: 5.13.2003 ::

(listening to: Radiohead: Hail To The Thief)

I finally got another new minidisc player, since my last one broke after a mere two months of work. I finally got to listen to the new Radiohead record again for the first time in a couple weeks, and I'm in a better mood because of it. Simply amazing.

There's a Communiqué track up on the MTV.com featured downloads page. Check it out.



(1:58 PM) :: (link)


:: 5.12.2003 ::

(listening to: Bonnie 'Prince' Billy: Master & Everyone)


finest/safest, 6 may, 2003



(10:51 PM) :: (link)

(listening to: Spoon: Kill The Moonlight)

Things I Want To Do This Summer After I Get Home From Tour, Part 1
buy a blow-up kiddie pool, fill it with water and soak in it while I blast Boston from the bedroom.
swim in a river.
porch-b-que 2003, the year linguica takes over!
switch from PBR to Miller High Life.
get custom made boxer shorts, make sure i show them to everyone.
go back to Boonville.
fly a plastic kite down by the bay, just like Greg!
turn twenty-seven.

(12:27 PM) :: (link)


:: 5.11.2003 ::

(listening to: The Promise Ring: Wood/Water)

Thanks to all who have donated for the hurt kitty, unfortunately when the vet calls and says "a $1,000 hip surgery is just the tip of the iceberg," things don't look too good. More on that later.

We had a rollicking show last night in the Oaktown, including birthday cake for Rory, lots of PBR and shots of Jagermeister, and a quick walk home at 4 AM. We're playing one last show here with the Oranges Band, who have quickly become a new favorite. Lots of good jangly pop stuff and super great vocals, check out "Finns For Our Feet" or "OK Apartment" if you don't believe me.

Three quick band related items: they might play a couple songs from our EP on Live 105, the local "alternative" music station tonight somewhere between 8-10. The SF Bay Guardian did a writeup on the EP ("eMotown" being my favorite quote), and we're playing tonight at 9:00 at Ye Olde Bottom Of The Hill in San Francisco. Oh, and as previously mentioned on Slatch, we're heading out on tour in June. East Coast, suckas.



(6:15 PM) :: (link)