:: 3.26.2004 ::

(listening to: Jets To Brazil: "Wish List")

Coming back from being out of town puts me in an odd mood sometimes. Not a *bad* mood mind you, just an odd funk where it feels like I left my head somewhere up in the clouds in the airplane. That, and the weather changed from warm and sunny to cold and wet, so everyone in the neighborhood is confused. What to do?

At least it's Friday and I'm going to get some good dinner tonight and drink some margaritas! That's one way to shake off this lost feeling.

In addition to the Bear Family released and the Proper Records recordings listed below, I ought to say that JSP Record's 10 disc Carter Family set is boss as well. Over 12 hours of music spanning their 13 year career, for under $50 (each set is like $22). If only every record company had sets like these!



(4:07 PM) :: (link)


:: 3.25.2004 ::

(listening to: They Might Be Giants: "Piece Of Dirt")

New MP3 of the week. Ever since I saw their rad, caffeine-charged set at SXSW I've been on an Old 97's kick, subjecting MRA and Motown both to Rhett Miller's sweet country-pop gems. Picking a song off either Too Far To Care or Satellite Rides was near impossible 'cause I love them all so much. "Barrier Reef" will do, enjoy!



(9:13 AM) :: (link)


:: 3.24.2004 ::

(listening to: Bob Wills & His Texas Playboys: Take Me Back To Tulsa #2: Cherokee Maiden)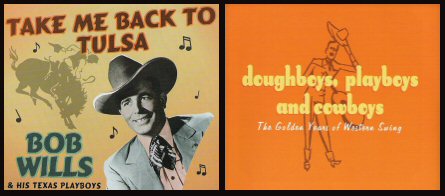 bob wills & western swing

Kent, England's Proper Records continue with the tradition of other overseas record labels like Bear Family by releasing great American music boxsets at rock-bottom prices. A few weeks ago I picked up Doughboys, Playboys, And Cowboys: The Golden Years Of Western Swing, a four-disc set with well over 100 songs for a mere $22.98. Today I finally picked up the Bob Wills set for the same price, and am enjoying every minute of it. There's a ton of stuff on their site I'd just love to get my hands on, and when I can get 4 discs for $7 more than a regular new CD, I'm going to choose these boxes anyday.

I was tempted by that new H & O double-disc set, but decided against it. I don't trust anything that has the horrible "Adult Education" on it!

Today's your last day to get this very special MP3 of the week before I replace it tomorrow. It's been, by far, the most downloaded song I've ever posted, so thanks for listening.

Tonights the return of The OC. Word.



(3:54 PM) :: (link)


:: 3.23.2004 ::

(listening to: Wilco: A Ghost Is Born)

Ah, back in California. It feels *great* to be home with MRA, the kitties, the sun, the lack of humidity, the good food, the great coffee, and most importantly: the lack of allergies! From the second I got off the plane in Austin I was a sneezing, snotty mess, but today I'm feeling loads better. The best part about going away is getting to come back to such a wonderful home (and the opportunity to have my own private Wilco listening party).

Austin was great. SXSW was excellent, and not only was our Thursday night showcase a successful blast, I got to hang out with my favorite people (except for Jon, who went camping instead, bah!) listening to some of the best music on the planet. I didn't take any pictures, but highlights included Old 97's over at Stubb's (who made me dance like an idiot), Pete Yorn (who was way better than his records and did great covers of both "Suspicious Minds" and "Ask" by the Smiths). Of course, all the Lookout! bands I saw were excellent (The Reputation, The Smugglers, The Oranges Band, The Washdown, and of course Ted Leo / Pharmacists) and were totally on their game. Other highlights included:
Watching The Court & Spark from the huge window on the sidewalk since the place was packed to all hell.
Coffee and vegetarian chorizo tacos on the southside with Mr. Jeff Byrd, and then a walk through the park along the river on a beautiful afternoon.
Drinking free Red Stripe at the Fader/Levi's party with Ryan and company.
Riding bikes with some friends from Philadelphia who completely surprised me by showing up at our show.
Driving up to UT repeatedly just to get Peet's coffee.
Against Me! twice, and all the tall-boys of PBR they inspired me to drink.
David Cross.
The one huge disappointment was the incredibly shitty performance by Wheat, who released my favorite record of last year, then played one of the worst shows I've ever seen. Seriously, the fucking rockstar faces they were making while onstage made me want to puke, and I left after 4 songs feeling disgusted and tricked. So, so terrible. Luckily, everything else delivered so I'm not too disappointed.

Time to get some rest and enjoy the perfect California weather.



(3:18 PM) :: (link)